Watch Video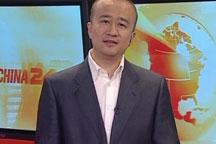 Play Video
The global trade dispute over China's rare earth exports is ongoing. China is in negotiations with the US, EU and Japan in Geneva on Wednesday, over export restrictions. It comes after the three economic blocks appealed to the WTO in March, claiming China's restrictions are in violation of WTO rules. Full Story>>
Q1: Han Bin, tell us why rare earths are so important. And what about China's reserves?
A1: Rare earths are a set of seventeen elements in the periodic table. What's called the lanthanides, plus scandium and yttrium. They're valuable because in alloys, they enhance magnetism, strength, temperature-resistance, and other properties. They are widely used in high-tech products. Think of iPhones, flat-screen televisions, lasers and hybrid cars. And military use, in weaponry. They're called Industrial Secret Ingredients. The Inner Mongolia Autonomous Region, and Sichuan and Jiangxi provinces have China's richest reserves. China has only 23 percent of the nearly 100 million tons of global rare earths reserves. But it's been supplying nearly 97 percent of the international requirements for many years.
Q2: Take us through the row over rare earths between China and some western countries. What is China's argument?
A2: Basically speaking, the US, Japan and EU are suing China in three areas---the tariffs, quotas and prices. China's reserves have been depleted over the decades, so it's cut both the domestic and export quotas. But the quota reduction also covers other metals that create high pollution and are non-renewable. China wants to pressure enterprises to reduce environmental damage caused by excessive mining.
One of the reasons that other countries, even those with their own high reserves, buy Chinese rare earths is money. It's cheaper to buy Chinese rare earths than mine their own. That's why China has raised its prices. The country needs to regulate its own mining first. The high cost to the environment is reason enough for the government to control the industry. Other measures include suspending new licenses, adopting production caps, and crackdowns on illegal mining activities. The government says that protecting the environment and the efficient management of resources, are the factors that shape policy, in accordance with global trade rules.
The US, Japan and EU countries are suing China for breaking its commitments to the WTO rules. China says its restrictions on rare earths exports are in line with the WTO principles. In tomorrow's episode of "Costing the Earth", we will focus on China's stand in the row over rare earths. Please join us then.
Editor:Bai Yang |Source: CNTV.CN