Watch Video
Play Video
The Third World Buddhist Forum is being held in Hong Kong. Organizers also hold the Grand Blessing ceremony, where devout followers will be allowed to worship a bone fragment said to be from Buddha himself.
The Buddha's remains come from Nanjing's Qixia Temple, where relics were preserved after being unearthed. It's the first time the sacred remains will be worshipped outside the Chinese mainland. The worship ceremony runs Wednesday through Monday. It will then be sent to Macao for public worship until May 4th.
Meanwhile, Hong Kong is also preparing for the third World Buddhist Forum, which starts on Wednesday. The three-day forum will be the biggest international Buddhist conference ever to be held in Hong Kong.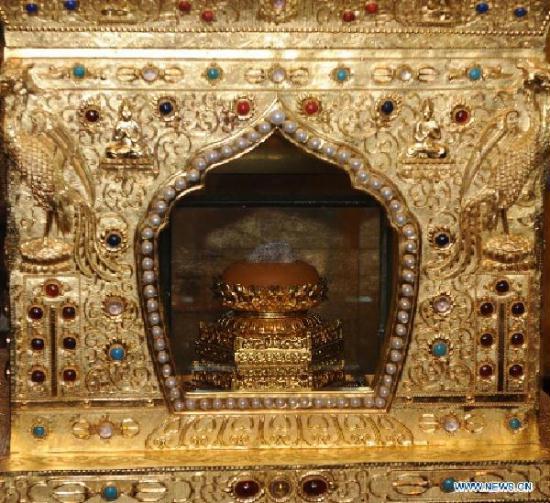 The Buddha's parietal-bone relic is placed inside the Ashoka pagoda at Qixia Temple in
Nanjing, capital of east China's Jiangsu Province, April 25, 2012. A Grand Blessing
Ceremony for worshipping Buddha's parietal-bone relic will be held in Hong Kong from April
25 to 30. The relic is being moved out of China's mainland for a public worship for the
first time after it was unearthed in June 2010 in Nanjing. It will be send back to Nanjing
on May 4. (Xinhua/Yang Lei)
A Grand Blessing Ceremony for worshipping Buddha's parietal-bone relic will be held in
Hong Kong from April 25 to 30. The relic is being moved out of China's mainland for a public worship for the first time after it was unearthed in June 2010 in Nanjing.
It will be send back to Nanjing on May 4. (Xinhua/Yang Lei)
A Grand Blessing Ceremony for worshipping Buddha's
parietal-bone relic will be held in Hong Kong from
April 25 to 30. The relic is being moved out of
China's mainland for a public worship for the first
time after it was unearthed in June 2010 in Nanjing.
It will be send back to Nanjing on May 4.
(Xinhua/Yang Lei)
Third World Buddhist Forum opens in Hong Kong
The Third World Buddhist Forum opened here Thursday with more than 1,000 Buddhist monks and scholars from over 50 countries and regions to discuss the role of Buddhism in the construction of a harmonious society and peaceful world. Full Story>>
Related stories
Editor:Bai Yang |Source: CNTV.CN