Watch Video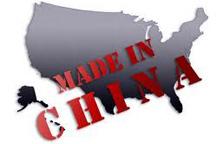 Play Video
"Made in China" products popular with US shoppers
The number of exports of Chinese-made goods to the US continues to rise. In the first month of this year, the US bought more than 34 billion dollars worth of Chinese made brands. Budget-conscious Americans are buying an unprecedented number of products carrying the "Made in China" label.
At giant American retail outlets, Chinese-made products make up a large proportion of the goods on sale. For some shoppers, the "Made in China" label is so common-place, it's no longer an important factor when deciding which products to buy.
John Card, US shopper, said, "I think as long as the people that are making the products take pride in what they do and have some standards and are able to build something that they're proud of, it really doesn't matter so much where things are made these days."
Quantity of Chinese exports is rising
China was the United States' largest supplier of goods imports in 2010, accounting for nearly 20 percent of all US imports.
Steve Mort, Denver, Colorado, said, "And the quantity of Chinese imports is rising every year. There was a 23 percent increase in such imports to 365 billion dollars between 2009 and 2010."
Economists say US consumers are happy to buy greater volumes of Chinese-made products as long as they remain less expensive than US-made goods.
Maclyn Clouse, finance professor, University of Denver, said, "Right now, given the state of our economy and the budgets for lots of our consumers, they're more concerned with affordability as number one, quality number two, and where it's produced - probably number three."
Electrical goods top the list of Chinese exports to the US, accounting for more than 90 billion dollars in 2010. And a recent surge in sales to the United States helped China record an unexpected trade surplus in March.
John Card, US shopper, said, "I do think that America, unfortunately, doesn't make enough of its products. However, that being said, it is important for each country to have exports. I mean, we're all living in one world, and part of the way we communicate is through trade."
Quality of Chinese exports is reassuring
Most people we spoke to on this busy Denver shopping street said they were comfortable with the quality of Chinese-made products.
But some said they would prefer to buy American-made goods if they had the option, especially clothes and footwear.
A customer said, "The quality is definitely there because the designers create a design for a shoe and it follows the trends in Paris. I always have to look inside the shoe and say 'no, this one's made in China.' They're all made in China."
"When I think about things made in China I think of good quality, and if it wasn't we wouldn't buy it."
And the upward trend in Chinese exports to the US shows no signs of slowing. Recent research from Japan's National Graduate Institute for Policy Studies showed that Apple's immensely popular iPhone alone - which is assembled in Shenzhen, - added nearly 2 billion dollars to the US trade deficit with China in 2009.
Editor:Zhang Dan |Source: CNTV.CN