Watch Video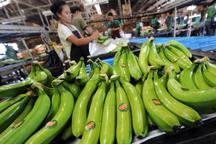 Play Video
The Philippine government says it has initiated contact with Chinese embassy officials in Manila to try to end a month-long standoff in Huangyan Island in the South China Sea. But at the same time, it has not abandoned plans to take the territorial dispute to an international court, a move China has repeatedly rejected.
With over a million foreign tourists visiting the country in just the first three months of the year, the Philippines' "it's more fun" tourism campaign seems to be taking off. Asia's tourism laggard may finally be living up to its potential.
But it appears politics may have spoiled the fun –the ongoing territorial dispute in the South China Sea over Huangyan Island has prompted China to issue a travel warning… Chartered flights to Manila that were supposed to carry hundreds of Chinese tourists this week were cancelled.
Until recently, the standoff in the South China Sea had been limited to exchanges between the Chinese and Philippine governments. But with Chinese travel agents cancelling tours to the Philippines, the fear is that the tensions could be hurting more than just diplomatic relations between the two countries.
Aileen Clemente, president of Philippine Travel Agencies Association, said, "It is one of the growth markets. They bring in $90-$200 per day per tourist. So the potential loss is there."
Last year, close to 250,000 Chinese visited the Philippines, making China the 4th largest market for the country's tourism industry. But while Clemente admits local tour operators may feel some initial shock over the travel warning, the impact, she hopes, would only be temporary.
Aileen Clemente, president of Philippine Travel Agencies Association, said, said, "In the scheme of things I know both nations would want to resolve this in a more peaceful way."
But banana growers and exporters in Southern Philippines are even more wary, claiming China has tightened rules on banana imports from the Philippines, with at least one shipment sent back for reportedly failing quarantine tests.
This has fueled fears that an unresolved territorial dispute with China, one of the largest buyers of Philippine bananas, may take a huge toll on the multi-million dollar industry.
But the Chinese government has denied imposing stricter rules because of the ongoing standoff, and the Philippine government has likewise downplayed the issue.
Edwin Lacierda, presidential spokesperson, said, "It's a phytosanitary and sanitary issue, and therefore it is being addressed as a technical issue by regulatory agencies of both countries."
Top Philippine diplomats and Chinese Embassy officials in Manila are also back in contact, according to a spokesperson from the Philippines' foreign affairs department, a sign that these rough waters may have calmed down a little.
Related stories
Editor:Zhang Dan |Source: CNTV.CN