Watch Video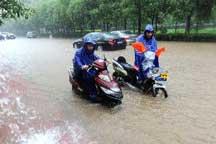 Play Video
Many provinces in southern China have been battered by the heaviest rainfall of the year. It's triggered landslides and flooded roads. Millions of people have been affected. The severe weather conditions have prompted the meteorological bureau to issue a yellow alert.
A city crippled by floods.
It's hard to imagine what you see is Nanchang, the provincial capital of East China's Jiangxi Province.
Days of heavy rain have made the city a virtual island, and in some areas, the water level is as high as 3 meters.
Resident of Nanchang City said, "The water level is up to my neck. Many people have been evacuated. Only those on the third floor are unaffected."
Daily life has been disrupted.
From the city center to the mountains, torrential rain has also taken its toll in Yifeng county.
It is the heaviest rain since 1973, with the village seeing 200 millimeters falling each day since Saturday.
Local government officials are warning residents to stay alert, and are making every effort to carry out rescue operations.
Knowing the destruction of mother nature, residents are taking no chances.
Resident of Yifeng County, Jiangxi Province, said, "Most houses in our village are inundated. People have been ordered to evacuate their homes, as the rainfall has flooded significant parts of the village."
So far, almost all residents have been moved to safer areas and no deaths have been reported.
Neighboring Hunan province is also reeling from the aftermath of the record downpour.
One bridge collapsed when one of its piers was hit by a sand dredger flushed downstream.
At least nine people fell into the river.
Three people have been saved and rescuers are still searching for the missing six.
Wang Hongbin, Head of Pingjiang County, said, "An investigation team has been set up and we will report the cause as soon as possible. The bridge has been shut by transport authorities."
With the downpours expected to continue, residents are preparing for the worst, which may still to come.
Editor:Zheng Limin |Source: CNTV.CN