Watch Video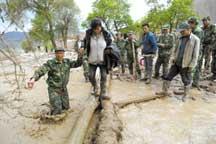 Play Video
A couple of college students experienced the mudslide and described the scene they saw.
Wang Chao and his friends are doing research in the disaster hit village. As the mudslide occurred, these college students were having lunch. The scene and noise put them in panic.
Wang Chao, College Student, said, "We saw stuff floating on the road, like the gas holders, pillars, bricks, everything. It was really terrifying."
After the initial shock, Wang and his friends started to rescue those who were being swept into the water and mud.
Cheng Weimin, Survivor, said, "They helped more than ten people get out of the water and sent them to the nearby hospital."
Villagers injured by hail and torrential rain were treated in a makeshift medical facility in the worst hit Minxian county of Gansu province, on Sunday.
The local meteorological center said the violent weather lasted about three hours on Thursday. That volume of rain is rarely experienced in Gansu. No rain is predicted for the coming week in the region.
Teams of experts were sent to help the local authorities in rescue operations on Friday. The Ministry of Finance allocated 20 million yuan to Gansu for flood-control costs.
Subsidies will continue for another three months for those without an income or relatives.
Editor:Zheng Limin |Source: CNTV.CN