Watch Video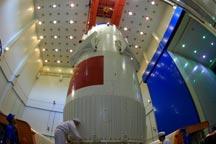 Play Video
A drill has been carried out on the entire system of the Shenzhou-9 spacecraft, ahead of launch, at the Jiuquan Satellite Launch Centre.
The drill started at ten past seven sharp. The three astronauts, including a female have finished putting on their space suits, and are ready to board the spacecraft. As part of the drill, engineers checked the launch tower and each part of the Shenzhou-9 cabin.
According to the commander-in-chief of the launch centre, the four and a half hour drill was successful. This is the first time China is to conduct a manned space docking procedure with the orbiting space lab module, the Tiangong 1. The planned June 16th launch will be the first this summer.
Editor:Wang Chuhan |Source: CNTV.CN