Watch Video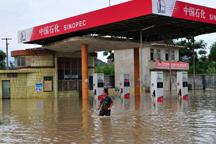 Play Video
A fresh round of torrential rains have swept across southern China over the weekend, causing many local residents to relocate. Meteorologist say the rainfall is moving from South to North.
Heavy rains caused mudslides in Eastern part of Guizhou province, affecting nearly 250 households and killing at least six people. Total rainfall has reached over 28 centimetres, and the local government has initiated an emergency plan to ensure the safety of local residents.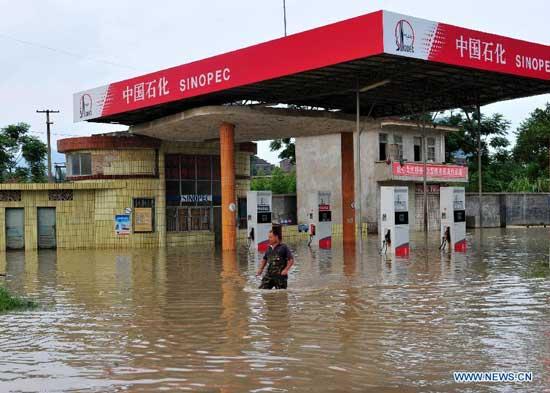 A resident wades through a flooded gas station in Xincheng County, southwest China's
Guangxi Zhuang Autonomous Region, June 11, 2012. Red and orange alerts for rainstorms
were issued in many areas of Guangxi. Local authorities began to strengthen
monitoring rivers and reserviors to guard against possible geological disasters.
(Xinhua)
A downpour in Hunan province killed nine people and affecting more than one million residents. Farmlands and houses were inundated by floods, causing huge economic damages to the local people.
More than 30 towns and counties in Guangxi Zhuang Autonomous Region have encountered huge rainfalls mounting to 25 centimetres. Local weather station has repeated thunderstorm alerts to reminded residents to pay extra attention when outdoors.
National Flood Control says about 40-thousand reservoirs in southern China are now faced with flood control problems.
The water level of the Rongjiang River is close to the warning line in Liucheng
County, southwest China's Guangxi Zhuang Autonomous Region, June 11, 2012. Red and
orange alerts for rainstorms were issued in many areas of Guangxi. Local authorities
began to strengthen monitoring rivers and reserviors to guard against possible
geological disasters. (Xinhua/Deng Keyi)
Related stories
Editor:Zhang Rui |Source: CNTV.CN