Watch Video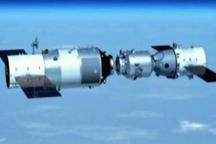 Play Video
Shenzhou-9 spacecraft's rendezvous and docking with Tiangong-1 spacelab module was a key step in China's plans to establish a manned space station in orbit by 2020. It's also the first time Chinese astronauts have manually controlled the entire process. Let's take a look back at the historic moment.
Shenzhou-9 launched on the 16th of June and first docked with Tiangong-1 two days later. This first docking was completed automatically. The three crew members entered Tiangong-1 and worked inside for six days before attempting a second docking. To prepare for this second docking, the spacecraft withdrew to a distance of 400 meters before beginning its approach.
At the 140 meter mark the crew switched over to manual control and astronaut Liu Wang took charge of the operation. He managed to precisely align the two vehicles for docking as the vessel approached Tiangong-1. Shenzhou-9 successfully completed a textbook manual docking, marking a major milestone in China's space program.
Editor:Zhang Rui |Source: CNTV.CN