Watch Video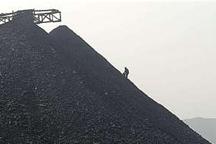 Play Video
As people rev up their air-cons to battle the summer heat, coal consumption is expected to go up. Yet major coal ports across China are seeing an accumulation of excess coal storage.
With a record throughput of 280 million tons last year, the Qinhuangdao port in north China is said to be the world's largest coal handling center.
Or it used to be.. most machineries are now lying idle as a sharp drop in coal demand, triggered by an economic slowdown.
Wang Lubiao, vice General Manager of Qinhuangdao Port Group, said, "There's now a record storage of over 9 million tons of coal."
According to Wang, the Qinhuangdao Port has a maximum coal storage capacity of 8 million tons. That's a million tons less than what it actually holds now.
Wang said, "I've been working here for over a decade. I've never seen so much stock. And it's gonna effect train & port transportation in the long run."
The numbers from the Qinhuangdao port do paint a rather bleak picture.. but a look across the board shows an even bleaker one.
Other major ports are showing a similar trend. Coal stocks at the Caofeidian port in northern Hebei province stand at 3 million tons, an 86% increase from last year. And stocks at the eastern Tianjin port have reached 3.77 million tons. That's a 43% rise from a year ago.
Also taking a hit are China's coal producers.
Zhou Yun manages a coal mining company. He says he used to be the one waiting for eager calls from buyers. But now he has to call the concessions.
Zhou said, "We had orders of a million tons of coal in June last year. This year it's about half of that."
Zhou is hoping for a rebound in coal demands as the summer heat sets in. But Wang Xianzheng, chairman of the China Coal Industry Association, says the country's coal demand is predicted to continue slowing during the second half of 2012 as challenges to economic growth remain.
Related stories
Editor:Zhang Rui |Source: CNTV.CN