Watch Video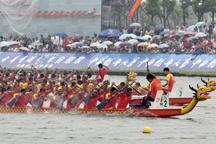 Play Video
In Hong Kong, visitors may be especially delighted by the city's annual Dragon Boat Water Parade.
The dragon boat race is an inseparable part of the festival. And it's especially important in Hong Kong's Tai O.
A fishing village on the west coast of Lantau Island, Tai O has been fancifully dubbed the "Venice of Hong Kong." So it's no surprise that its celebrations are so special.
Fan Jingwei, a sports teacher, is the leader of a team of paddlers here.
They have have been training hard, and it all leads up to the the big day when they hold their traditional dragon boat water parade. This year it comes on June 23rd.
Fan says, "All of us like the activity because we enjoy teamwork. The hardest part is that we must all act as one. It takes a lot of work to pull off."
And despite the draw of modern culture and technology that abounds in Hong Kong, the race continues to attract the younger generation. Chen Siming is only 17 years old, but he's been in the races for 3 years now.
We asked him too, why he races.
He says, "I take part in the dragon boat race to be part of a team."
That's good to hear, as it will be the task of the younger generation to continue carrying the tradition ahead and into the future.
But it's not only about competition and teamwork. Many families here are traditionally fishermen and women, and their customs continue to hold sway.
On the day of the festival itself, deity statues are placed in sacred sampans to be towed by the boats in a water-borne parade. The tradition supposedly pacifies wandering water spirits.
This, in turn, brings good tidings and health.
Editor:Zhang Jianfeng |Source: CNTV.CN