Watch Video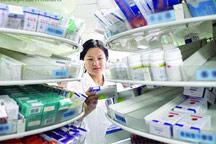 Play Video
3 years have passed since China's medical reform began. And over a trillion yuan has been invested in the medical sector. This is bringing about all manner of change to the way the country manages its health.
1.3 billion residents. That is the number of people the basic medical care security network now covers.
Over the past 3 years, the central government has been working to renovate and construct county-level hospitals - as well as township and village clinics.
And 4.15 billion yuan has already been expended on setting up more than 2,000 community clinics in urban areas.
Li Ling, professor of Peking university, says, "The amount of money the central government has been investing reached its highest levels over the past three years. Now, medical reform is impacting nearly all Chinese."
The scope of this all hasn't contained itself strictly to the health sector. And new opportunities are being created as demand for high-quality medicalcare rises. This means increasing numbers of private and specialized hospitals are proving ripe for investment. The country had nearly 17,000 private medical institutions as of the end of last year.
Its hard to ignore the successes of China's reforms. Today more than 95 percent of its citizens are covered by the country's medical care network. But still, there's much yet left to be done. Uneven distribution of medical resources between rural and urban areas is of particular concern. "
To solve the problem, 300 county-level hospitals will take part in a pilot program that will see them reform their finances, management and human resources.
The program plans to vastly overhaul the way Chinese hospitals generate revenue as well. Currently they rely heavily on medicine sales, but provide undervalued services. That needs to change.
But Health Minister Chen Zhu says this start in county-level reform will also serve as a valuable source of knowlege. And it's hoped the program will generate the experience needed to bring about even further reforms in urban areas.
Sounds good, but how exactly will all this play out? Maybe the next three years will tell.
Chen Zhu, Health Minister, says, "The county-level reform will generate the experience needed to bring about future reforms of major public hospitals in cities."
Related stories
Editor:Zhang Jianfeng |Source: CNTV.CN