Watch Video
Play Video
Many of China's coastal regions experienced fast paced urbanization over the past decade. The rapid changes triggered some conflicts between local residents and officials.
To ensure everyone's interests were taken into account, authorities in Zhejiang Province launched the Wenling Forum more than a decade ago, to bring villagers and local government officials together to exchange ideas.
It showed fruitful progress, and provincial officials later decided to promote the grass roots forum in other areas.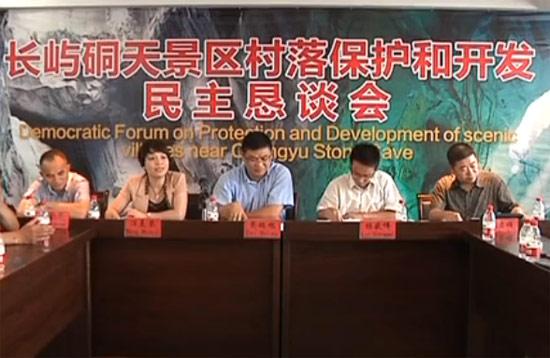 To ensure everyone's interests were taken into account,Zhejiang Province
launched the Wenling Forum to bring villagers and local government officials
together to exchange ideas.
It's a special day for Zhao Jianhua in Xinhe Town of Wenling City in east Zhejiang Province. He is going to attend the Wenling Democratic Forum, a town hall-style meeting held regularly, where villagers can interact with local officials.
Zhao is going to discuss the protection and commercial development of stone houses near a local tourist attraction.
The discussions were also attended by a delegation of European diplomats.
Vassilis Xiros, first secretary of Greek Ministry of Foreign Affairs, says, "People's demand will be heard, because it is very important in every country that people have a say in their own affairs. I am sure they are the ones who know better about what are the problems and challenges they face. So this kind of interaction between government officials and grass root democracy is crucial."
The Wenling Democratic Forum was founded in 1999 by the local government to encourage villagers to join in the decision making process. This month, the Zhejiang Provincial Government decided to promote this grass-roots, democratic forum to other cities and towns.
Zhao Jianhua says, "The forum has bridged us and the government - it makes the policies and its executive more transparent to us and we can affect the decisions sometimes."
Located in one of China's most developed areas, Wenling has experienced dramatic urbanization in the past decade. But the breakneck growth created conflicts from time to time between local residents and authorities.
Zhao Yonghui, town chief of government of Xinhe town, Wenling city, says, "Our work has been much easier since we started communicating with local villagers through the forum. It has solved many problems and avoided many potential conflicts. We also get more support when we carry out new policies."
Chen Yimin has been organizing and attending the forum ever since it was founded thirteen years ago.
Chen says, "To promote the Wenling model, local authorities should find topics which are relative with villagers' interest. And the attendants should represent people from all walks of life."
China has been promoting democracy at the grass root level in recent years. Wenling Democratic Forum has been a good attempt at improving communication between villagers and the local government.
To expand its scope, authorities have pledged to hold regular meetings in the future, to ensure people have more say and participation in local affairs.
Related stories
Editor:Zhang Jianfeng |Source: CNTV.CN