Watch Video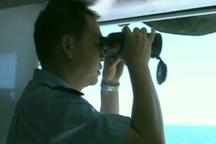 Play Video
A team of four China Marine Surveillance ships are continuing their patrol mission in the South China Sea.
A foreign ship has been detected on Chinese territory in the South China Sea.
Zhang Nini, CCTV reporter, said, "I'm in the central of S. China Sea, the patrol found that some reefs and small islands here are occupied by foreign forces. Take Vietnam as an example, it's taking 29 islands and reefs."
The team had an encounter on the eighth day of their patrol mission. A Vietnamese official ship was trying to pass through at a very fast speed.
Huang Yong, China Marine Surveillance, said, "Vietnamese vessel. This is China Marine Surveillance Ship Number 83. Under the UN Law of the Sea and laws of China, this area of water belongs to China. Do not interfere with our operations."
Ten minutes later, the ship dropped its speed and turned around.
The CMS patrol sailed from south China's coastal city of Sanya in Hainan province on June 26. Their aim is to enforce law and order within China's territorial waters and prevent harm to the marine environment.
The regular patrol was launched in 2006 in a bid to highlight sovereignty and jurisdiction as an important part of the country's efforts to protect its marine interests.
This is especially crucial in light of the contests of sovereignty around the waters.
Last month, Vietnam passed a "Vietnamese Law of the Sea", which named the Xisha Islands and Nansha Islands as being within their jurisdiction.
The Chinese Foreign Ministry has urged Vietnam to act in ways that are conducive to bilateral ties and the peace and stability of the South China Sea.
Liu Weimin, spokesman of Chinese Foreign Ministry, said, "China as always opposes countries' moves to aggravate and complicate the situation in the South China Sea."
To propagate China's sovereignty and better manage the territory, the Chinese government has raised the administrative status of Sansha city in Hainan province, to govern sovereign islands and their surrounding waters.
Meanwhile, China decided two weeks ago to build an offshore supervision platform, to help with the protection of cultural relics around the Xisha Islands.
Related stories
Editor:Zhang Dan |Source: CNTV.CN