Watch Video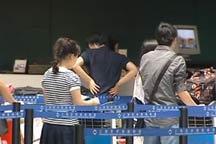 Play Video
Shanghai is among the first to adtop tighter security chekcs. ICS Reporter Zhang Yuan went to downtown Hongqiao airport Monday afternoon to see how the new procedures are working.
On the first workday since the tighter checks went into effect, the lines at Hongqiao are not as long as some travellers had reported over the weekend. Some passengers say the safety checks are now tougher, but they do understand the reasons for them.
Wang Liang, Traveler, said, "The enhanced security check measures may delay some people's flights. Some of us are in a hurry. The security checks are tighter, and I saw some women travellers taking off their high heels."
John Desmond, UK Expat, said, "I've got all the time in the world for security, as long as I am safe on the plane. It's good enough for me. I'm not worried about long queues at security. I'd rather have my own safety at hand."
The new rules mean more passengers will be asked to take off their shoes and unbuckle their belts. The frequency of carry-on bag checks will also increase. Airport authorities say they've added staff at the security check area to improve efficiency, and airlines say it's not having an impact on departures.
Li Shan, China Eastern Airlines, said, "Some flight delays are not due to the enhanced security checks. They are caused by the weather at the destinations. We haven't heard many complaints about the new security check rules."
Zhang Yuan, ICS Reporter, Shanghai, said, "Shanghai's two airports are among China's busiest. More than 74 million travellers passed through Hongqiao and Pudong last year. Now, airport authorities are telling passengers to arrive up to an hour earlier than normal to allow enough time to get through the security check."
Airport security staff have also started doing random tests for explosives at the terminal entrances. There's no word on whether the stricter measures are the result of an attempted hijacking in Xinjiang last Friday, but China's Civil Aviation Administration ordered airports across the nation to raise their security check levels over the weekend.
Related stories
Editor:Zheng Limin |Source: CNTV.CN