Watch Video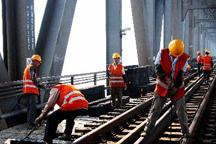 Play Video
Private investment in traditionally state-run industries is not actually a new development. China's railways have seen investment from individuals and private enterprises over the past 2 decades.
Yancheng city in east China's Jiangsu province boasts one of the first privately-invested railways in the country.
The Yancheng section of the Xinchang Railway, which runs from the north of the Jiangsu Province and joins the neighbouring province of Zhejiang in its south, needed more money than the city could afford. So private investment was proposed and more than 100,000 local people chipped in.
Wang Zheng, deputy director of Yancheng Railway Construction Office, said, "The plan was initiated in 1996. But for many reasons, construction only began 3 years later. The railway was finally finished in 2005, about 10 years later."
10 years is a long wait. But what the investors didn't expect, was that another 6 years on , they are still waiting to see a return on their investment.
Wang Zheng, deputy director of Yancheng Railway Construction Office, said, "Because it's a new railway line and there still isn't a mature cargo network built around it, profits are few and far between. It's going to take 12 to 18 years to see any real returns."
In northwest China's Xinjiang Uygur Autonomous Region, the Hongnaosan Railway started out on a more promising footing with the transport of millions of tons of coal depending on it.
Initially the Ministry of Railways was the largest investor.
But it dropped out of the project in 2011 due to a lack of funds. While many saw this as a major setback, others saw it as an opportunity. After a round of restructuring, private enterprises took charge.
Qi Yongxiang, engineer at Hongnaosan Railway, said, "Questions still remain about how to operate such a completely private railway. This is a first for Xinjiang, where the majority of railways are still owned by the government."
Construction of Hongnaosan Railway is expected to begin this month. Experts say while private investment in Yancheng and Hongnaosan, isn't always smooth sailing, every new problem overcome, is a step forward.
Related stories
Editor:Zhang Dan |Source: CNTV.CN