Watch Video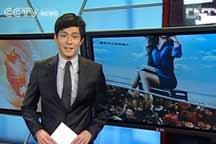 Play Video
For more on the controversy over the subway dress code, we are joined in the studio, by my colleague Li Kefu.
Q1: What's happening now over the Shanghai subway dress code controversy?
A: The original words on the Subway Company's micro blog were that "it's not surprising for women to be harrassed in the subway if they are dressed like this." And naturally, these words attracted strong opposition from netizens. |For example, one netizen said "even if a woman doesn't wear revealing clothes, it doesn't mean she won't be sexually harassed." As the debate goes on, two young women have covered their faces and held signs protesting at Shanghai Metro. Their signs read: "I can be sexy, but you cannot harrass." There's been no response to their protest by Shanghai Metro yet, but the debate about "subway dress code" will continue, at least till the end of the summer... But in an online poll by Sina Weibo, most agreed that women should dress "more properly" to prevent an increasing number of complaints of sexual harrassment on the subway. One microblogger says "Dressing appropriately in public is a matter of courtesy."
Q1: Have there been other stories about subway dress code before?
A: There have been --but mostly in an entertaining way. Unconventional outfits, or occasionally outrageous oufits are not uncommon on subways across China. These are just some of the weird looks we found on subways in Beijing, Shanghai and Guangzhou in recent years...I am not sure if you've seen them before but you would be lucky to see these bizarre people...Most people dress like this simply for fun, while some want to get fame over the internet... In general, subways are tolerant as long as they don't pose a danger to the public. Although some passengers say they really don't feel comfortable sitting next to Miss White Fox, or the Transformer.
Related stories
Editor:Zheng Limin |Source: CNTV.CN