Watch Video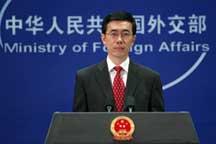 Play Video
Japan's Prime Minister Yoshihiko Noda says on Saturday that his government is negotiating to buy part of the Diaoyu islands in the East China Sea, a move that could elevate tensions between China and Japan.
China has lodged a solemn representation and protests to Japan for violating its territorial sovereignty. On Thursday, two Japanese right-wing activists landed on the islands.
Rising tensions.....
Prime Minister Yoshihiko Noda told reporters that he's considering nationalizing part of the Diaoyu islands to strengthen Japan's control over them.
He acknowledged trying to purchase the islands from a private Japanese citizen.
Yoshihiko Noda says, "Looking at it from the point of view in terms of how to peacefully and stably maintain the islands, we have begun talking with the owners of the islands and looking into our options overall."
Ties between Beijing and Tokyo were tested in April. Tokyo Governor Shintaro Ishihara said his city prefecture was negotiating with the party he called the "owner" of the islands.
The idea is to buy them by the end of this year. Ishihara has started raising money for the purchase.
Meanwhile, two Japanese nationals landed on Beixiao of the Diaoyu Islands in the East China Sea on Thursday, despite warnings from the coast guard to stay away.
The two stayed for 90 minutes.
Some Japanese right-wing activists even say they will dispatch self-defense troops to the islands.
Foreign Ministry spokesman Liu Weimin repeated that the Diaoyu Island and its affiliated islands have been part of Chinese territory since ancient times.
Liu Weimin, Spokesman of Chinese Foreign Ministry, says, "The illegal acts of the Japanese right wing activists severely violate Chinese territorial sovereignty. The Chinese side has made solemn representations and protests to the Japanese side."
Liu Weimin says China will continue to take necessary measures to firmly safeguard its sovereignty over the territory.
The incident came a day after Taiwan vessels carrying Taiwan activists tangled with Japanese patrol ships close to the islands.
Taiwan's Coast Guard sent five patrol boats to protect the vessel and its nine crew members.
Observers say the Japanese unilateral action can only increase friction that would lead to serious consequences. And that includes damaging the relations between the two countries.
Editor:Zhang Jianfeng |Source: CNTV.CN