Watch Video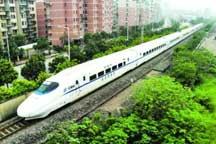 Play Video
It's been just over a year now since the first high speed train from Beijing arrived at Shanghai's Hongqiao Railway Station. And the service is proving popular for some users because of the time it saves them.
Zhu Guoan lives in Tianjin, but her son works here in Shanghai. The long distance between the two cities had been a headache for them.
The overnight trains she used to take when she wanted to visit him take up to 12 hours. But now, her trip takes less than five hours. And she says that means she can visit him more often.
It's very convenient and I can arrive in Shanghai on the same day... Sometimes they say they want to go to Tianjin to visit me, and I say no, no, no, I can come to Shanghai.
And businessman Guo Depu says the high speed trains also make travelling much easier for him. He travels a lot - usually by car or bus.
In fact, this was his first time on a high-speed train, and he says it won't be his last.
The environment is comfortable and they have many trains running on the route so I have choices. I think overall it's a pretty good thing.
Over the past year, 56,000 trains have carried more than 52 million passengers between Shanghai and Beijing...and some stops along the line.
Railway operators say ridership continues to grow and say they will spare no effort to send passengers safely to their destinations.
Editor:Zhang Jianfeng |Source: CNTV.CN