Watch Video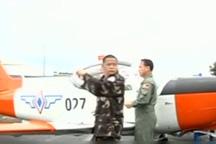 Play Video
The Filipino Defense Secretary Voltair Gazmin has announced that the government is upgrading its air force. According to the local media, the purchase list includes air fighters, helicopters, and cargo planes.
During the week, the Filipino air force and coast guards patrolled waters around the Huangyan Island. Edmund Chen, the Philippine Coast Guard Commander said his team will not stop air patrols, even though the country's coastguard vessels have pulled off from the area.
A full Cabinet meeting was held this week in Manila. A government spokesman said decisions have been made on how to deal with the territorial disputes with China, but no details were given. In the past month, the waters around Huangyan Island in the South China Sea have been peaceful...thanks to the fishing moratoriums imposed by China and the Philippines.
Editor:Zhang Dan |Source: CNTV.CN