Watch Video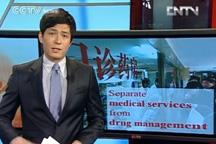 Play Video
A survey conducted by Beijing Municipal hospital management bureau shows that the public generally gave positive feedback to the city's medical reforms. 90 percent of respondents say they are satisfied with Beijing Friendship Hospital's new measures. Full story >>
As part of the ongoing medical care reform in China, Beijing Friendship Hospital has been selected as the pilot hospital to carry out new measures focused on improving the medical system and hospital experience. For more on the city's new measures, we are joined by my colleague Li Kefu at the studio.
Q1: Can you tell us more on Beijing's new measures of its ongoing medical reform?
A1: Beijing's new reforms aim to separate medical services from drug management and use "medical service fees" to replace "registration fees". Let me explain: China's public hospitals have long relied on drugs sales as a major source of income, a practice that many say drives up clients' medical costs and harms the doctor-patient relationship. New measures took effect July 1st, prohibiting the hospital from selling drugs at a 15-percent mark-up. Results are looking good so far, data monitored last week show that consultant costs at the out-patient department lowered nearly 12 yuan per patient, compared to one week ago while drug costs were lowered by 32 yuan per patient. Another major change is the establishment of what they call a "medical care service fee". It is used to replace the previous flat-priced 5-yuan "registration fee". Patients with public health insurance now pay only 2 yuan to see a general practitioner at the Beijing Friendship Hospital, and 20 yuan, 40 yuan or 60 yuan to consult senior doctors. The hospital's information office says the new medical care service fee better represents the value of physicians' work, and will help to improve the quality of medical care.
Related stories
Editor:Zhang Dan |Source: CNTV.CN