Watch Video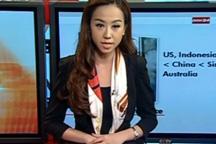 Play Video
This most recent cut in fuel prices was within market expectations, as global crude prices have been on a roller-coaster ride since the euro zone debt crisis started to unfold. Full story >>
Now for more on the latest cut to fuel prices, we are now joined in the studio by my colleague Xie Sisi.
Q1: We noticed that this is the third cut within two months. So could you elaborate on the frequent price slashes?
An1: Yes, Let's first check out the graphic to get a better picture of the situation. The first price cut took place in early May, a 330 cut to diesel followed by a 310 yuan deduction per ton of gasoline . A second cut came into force on June 9th, the largest since 2008, which slashed 530 and 510 yuan from pump prices. And the most recent cut made gas cheaper by 420 yuan and diesel by 400. China's oil demand dropped to a six-month low in April this year, posting its first monthly decline in at least three years. According to China's fuel pricing rules, a price change will be considered if the average price of a basket of three crude oil types fluctuates up or down by more than 4 percent over a period of 22 days. Fuel price cuts follow that formula closely, but increases are often postponed or reduced to ease inflation.
Q2: You just mentioned the oil pricing mechanism. But according to the country's top economic planner, the NDRC, a new pricing mechanism will be introduced at the end of this year. Could you tell us more about it?
An2: Yes, news of a decrease in fuel prices obviously makes the papers, but when this is done three times over such a short period of time, the nation's planners are often forced to go back to the drawing board. Such a frequency impacts the pricing formula itself. Experts say the new pricing mechanism will take Asia's largest economy further along the transparency road. The new formula suggests that the basket of three types of international crude will be changed. And the period for adjustment will drop from the current 22 days to 10. If these changes are implemented, it would be a boost for major Chinese oil and gas companies, especially refiners such as Sinopec and PetroChina as it would allow them to adjust prices far more rapidly in response to movements in crude costs. China's current gasoline price is higher than the US, Indonesia and Malaysia. But well below Singapore and Australia, two Asia-Pacific nations that have free-floating fuel prices. Analysts believe that if China does move more towards transparent fuel pricing, it may encourage other Asian nations to do the same.
Related stories
Editor:Zhang Dan |Source: CNTV.CN