Watch Video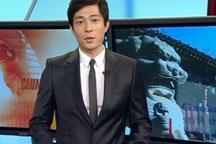 Play Video
It's July, just a month after the nation's high school students took the Gaokao, or college entrance examinations, and now it's time for universities and colleges across the nation to start their admissions process. This is a crucial moment for students, parents and schools hoping for the best results. CCTV reporter Li Kefu takes a look at how procedures are conducted at Peking University and Tsinghua University in Beijing. Full Story>>
For more on university admissions, we are joined by my colleague Li Kefu in the studio.
Q1: Tell us more about university admissions. What are the key requirements for admissions in China?
A1: Frankly speaking, Gaokao scores are still the most crucial element of a student's admission to higher education institutions in China. First of all, the test is almost always required for admissions of all kind of schools, whether they be technical schools, art schools or traditional academic institutions. Secondly, good universities have very high standards for Gaokao scores. One minor exception is so-called "extra credits." High school students who win awards in national Olympic competitions in math, physics, chemistry and biology can win up to 20 points in "extra credit". These credits can be added to their Gaokao scores. However, faced with criticism, China's education authority says it will tighten the policy on "extra credits" to ensure a fair chance for all exam-takers. In any case, the heavy reliance on Gaokao scores has drawn heavy criticism in recent years. On the other hand, many argue that relying on the scores may be the most effective way to achieve a system of fair and transparent competition for university admissions.
Q2: What are the latest trends in university admissions? Are Beijing and Tsinghua Universities still the most popular choices?
A2: With rising international rankings and heavy investment from the central government, PKU and Tsinghua still remain two of the most competitive universities for Chinese students. But there are more choices for students these years. Studying abroad is one increasingly popular choice. According to the Ministry of Education, China has the largest number of overseas students in the world, with a record 1.27 million studying abroad at the end of 2010. And the number is increasing at a double-digit rate every year. Actually, right next to the mainland; universities in Hong Kong have also gradually become popular destinations for mainland's top students. Hong Kong's 12 universities recruited more than 1,400 Chinese mainland students in 2010, most of whom got top regional Gaokao scores. In 2011, the University of Hong Kong expected to enroll 300 mainland students but it received 10,362 applications. So the competition for Hong Kong University is no less fierce than PKU and Tshinghua.
Related stories
Editor:Bai Yang |Source: CNTV.CN