Watch Video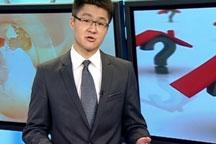 Play Video
China's National Bureau of Statistics released fresh figures on housing prices Wednesday. The data shows that average home prices fell 1.5 percent in June from the same period last year. Before the release, there had been reports suggesting that the June data could show a month on month rebound in prices. Full Story>>
For more on China's property prices, we are joined in the studio by my colleague Wu Haojun.
Q1: So more cities saw a rise than a drop in home prices in June compared to May. Can we say we're seeing a bit of a rebound here?
A1: Yes, indeed. Compared to year-on-year figures, the month-on-month figures can better illustrate what's happening in the short term. Now let's crunch some numbers here to see what's happened in the property sector in the past couple of months. Compared to May, 25 cities saw a rise in new home prices in June. Prices in 24 cities remained unchanged and 21 cities saw a drop in new home prices. That certainly paints a very different picture from the longer term year-on-year figures, which show that only 11 cities have seen higher prices than a year ago. And for China's 3 economic powerhouse cities: Beijing, Shanghai and Guangzhou, new home prices have all ticked up. Well that doesn't spell trouble just yet. But it's definitely not something that the government would want to continue. As it has emphasized time and again that it's not yet time to loosen up its grip on housing prices.
Q2: Like you said, the central government is very determined about reining in housing prices, now in view of the new data, are there new precautions against a possible rebound?
A2: Yes. News just came out that the State Council is organizing several institutions to conduct research into China's property market. And the research is said to target two major problems. First, why prices still picked up under such a stringent restriction policy. And second, how regulators should respond if prices continue to rise. Industry experts say the move by the State Council means that if property prices see a significant rise in the future, the state is likely to roll out more curbing policies.
Editor:Bai Yang |Source: CNTV.CN