Watch Video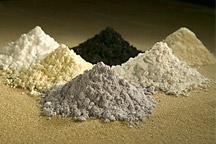 Play Video
The US, EU and Japan have brought their complaint against China's rare earth export restrictions one step further. At a meeting of the WTO's trade dispute settlement body, they submitted their second request for the establishment of an expert panel.
The dispute over China's rare earth export restrictions has been high on the agenda of Monday's meeting at WTO headquarters in Geneva. During the closed door meeting, the US, EU and Japan made a second request for a panel to be set up to look into the matter. China blocked the first request at a similar meeting two weeks ago. Under WTO rules, this time the panel will automatically be formed, despite China's objections.
Rare earth minerals are essential in the production of strategically important products such as wind-turbines and electric-car batteries. The US estimates China's rare earth reserves account for 36% of the world's total. China puts the number at 23%. Yet China supplies a whopping 90% of rare earth minerals in the global market. The exploitation and production of these minerals in the past has led to a significant increase in environmental pollution, prompting the Chinese government to tighten regulation of the sector and impose restrictions on exports.
During Monday's meeting, China reiterated its stance, saying the export restrictions are aimed at preserving natural resources and promoting sustainable economic development.
According to WTO procedure, within the next 45 days, a panel will be appointed and the experts will have up to two months to come up with a ruling on whether or not China's export restrictions violate relevant WTO rules and China's Protocol of Accession. The panel will hear from and examine evidence presented by both sides. It will be a challenge, as China already lost a similar case in January this year on export restrictions on various forms of other raw materials.
With the US, EU and Japan on the other side, China is facing a powerful opponent. But China has said it will take up the challenge in defending its legitimate rights and interests.
Related stories
Editor:Wang Chuhan |Source: CNTV.CN