Watch Video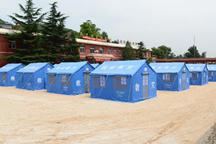 Play Video
The downpour over the past few days has led to 95 deaths, and 45 people missing across the country, the Ministry of Civil Affairs has said. Meanwhile, rescue efforts and disaster relief work are ongoing in affected areas nationwide. The heavy rains in Fangshan district is the worst-hit mountainous region in the capital city of Beijing.
The rainstorm led to the evacuation of over 50,000 people in Beijing, mostly from the city's outlying mountainous regions.
Over 20,000 rescuers were deployed to discharge the deluge in more than 70 water-logged sections of Fangshan region.
A villager of Beicheying Village in Beijing said, "The deluge became waist-high that night."
For farmers, there is little hope for a harvest.
Another villager said, "Are these the only crop you've rescued?"
"Yes. I saved them for meals."
Pre-fabricated houses have been set up in the village, and locals were provided with daily necessities.
Property insurers are also busy these days, as phone calls for auto insurance claims continue to pour in.
A car owner in Beijing said, "I have to wait 6 to 7 hours before they can tow my car, the waiting list is full."
Thousands of cars were waiting to be repaired in the maintenance shop, after being submerged in the floods overnight.
Employess there said all of the cars need to be dismantled for accurate assessment of the loss, as the parts were badly damaged.
However, the city's 500 tow trucks could hardly meet the sudden rise in claims.
Xie Baolin, People's Insurance Company of China, said, "We are still making arrangements for handling cars that are stranded. We already ran out of all our tow trucks 2 days ago. "
Insurance companies have voluntarily launched rescue efforts for up to two thousand stranded cars over the past few days, and they have also set up fast tracks for car owners to claim their disater-related expenses.
Editor:Zhang Jingya |Source: CNTV.CN