Watch Video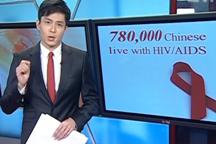 Play Video
CCTV reporter Li Kefu at the studio has more on the HIV/AIDS situation in China.
Q1: What can you tell us about HIV and AIDS in China?
A: Well as the most populous nation in the world, China is not yet near what many would consider a widespread AIDS epidemic, but the infection rate has been rising sharply. According to the report on the situation of HIV/AIDS in China, which was jointly produced by China's Ministry of Health, the UN and WHO, the actual number of people living with HIV/AIDS in China was estimated to be around 780,000 by the end of 2011.
The total infection rate of the country stands at 0.058 percent. In addition, a total of 28,000 people died of HIV/AIDS in China in 2011, and another 48,000 in the country were found newly infected by the virus. The HIV/AIDS situation is showing some new trends, as sexually-transmitted cases continue to increase.
Q2: What kinds of effort has the government in China put into battling AIDS?
A: In February 2012, China issued its AIDS Action Plan for the 12th Five-Year Program period. It will further strengthen AIDS public education, testing, treatment, and prevention of mother to child transmission of HIV. A report shows that more than 136,000 AIDS patients had received anti-virus treatments as of September 2011. The treatment coverage rate is now 73.5 percent, an increase of 11.5 percent compared to two years ago.
However, battling HIV/AIDS does not only stand as a challenge for the government, it also requires joint-effort from society. There is a movement by the Ministry of Health that brought wide-spread debates recently, particularly in the LGBT community. Lesbians, will now be allowed to donate blood again, for the first time in 14 years. But the ban on gay men donating continues. Our reporter Wang Xinye spoke to some in the LGBT community for their opinion on the government's move.
Editor:Zhang Jingya |Source: CNTV.CN