Watch Video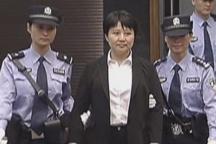 Play Video
Bo-Gu Kailai's murder trial has started in the capital city of Hefei. The wife of Bo Xilai, the former party secretary of southwest China's municipality Chongqing, is being charged with the intentional homicide of British businessman, Neil Heywood, in November 2011. The court says that they have sufficient evidence to prove that Bo-Gu is guilty. Wang Xinye brings us the details of the case.
It will be very difficult for the wife of the former party official to prove herself innocent of Neil Heywood's death.
Anhui provincial Procuratorate said during the prosecution that Bo-Gu and her Son had a conflict over "economic interests" with Heywood.
Bo-Gu feared Heywood would be a threat to her son's safety and killed him with poison when she visited Heywood in his hotel. She was accompanied by Zhang Xiaojun, an orderly at Bo's home and now an accessory in the crime. Zhang took the poison from Bo-Gu and put it into Heywood's mouth when he was drunk and asked for water. After the murder, Bo-Gu and Zhang covered up their crime with the help of several other officials from Chongqing's Public Security Bureau. Heywood's death was recorded as a heart attack.
The British businessman used to be on good terms with Bo-Gu's son. The younger Bo is now in the US and has written an e-mail to the US broadcaster CNN saying he has delivered a witness statement to her mother's defence team.
The prosecuting body informed the two defendants and the family members of the victim of their rights during the investigation. The opinions of the defence team were also heard in the court. 140 people, including the families of both the victim and the defendants, British diplomats, journalists and government official attended the trial.
The case first came under the spotlight after the former head of Chongqing Public Security Bureau Wang Lijun entered the US general consulate in Chengdu without authorization on February 2012. Later the police set up a reinvestigation of the case and suspected Bo-Gu and Zhang of murdering Heywood.
During the trial on Thursday, the prosecuting body said the facts of the two defendants's crime are clear, and the evidence is irrefutable and substantial.
The Hefei Intermediate People's Court has received the case and will announce the verdict at a later date.
Other officials who helped Bo-Gu in hiding her crime will face trial on Friday.
Editor:Wang Shuo |Source: CCTV.com