Watch Video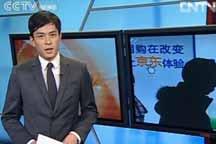 Play Video
China's online shoppers are waking up to find the country's leading online retailers are caught in one of the fiercest price wars ever. It's gotten to a point where one company is even announcing it's willing to sell its products with zero profit for the next three years. Full story >>
China's online shoppers are waking up to find the country's leading online retailers are caught in one of the fiercest price wars ever. It all started at 9 a.m. Wednesday morning when Suning Appliance and Jindong Mall began to offer massive discounts to gain more customers. Other competitors are also joining the fray. For more on the dramatic e-commerce price war, we're joined by my colleague Li Kefu in the studio.
Q1: Tell us more about how the price war started in the first place?
A1: It's not the first time there's been a price war between Suning and Jingdong. Only this time, it's more fierce. And Weibo is where the battle is being fought out. On August 14th, a provocative micro-blog posted by Jingdong's CEO Richard Liu triggered a storm of reaction on the Internet. It said Jingdong would get a zero percent gross margin from large home appliance sales over the following three years, and asserted that the prices of large home appliances sold on Jingdong would be at least 10 percent lower than those in the stores of its rivals Gome and Suning. He later posted another micro-blog calling for the recruitment of "price checkers" to monitor the price tags of its competitors Suning and Gome electrical stores. When asked about the motivation for the price war, Mr. Liu said he didn't start the trend but would certainly follow it.
Suning Appliance has hit back saying "All products including home appliances sold by Suning are guaranteed to be cheaper than those of Jingdong. Starting on August 15th, Suning will launch an unprecedented sale." CEO of Jingdong has replied that "If Suning sells one item for one yuan, we will sell it for 0 yuan." And now, an unprecedented price war has officially kicked off.
Q2: Pretty dramatic words there. Well the price war certainly is very tempting for consumers. Are they keeping their promises though?
A2: Well they have offered some tempting deals so far. Take the Samsung 32-inch HD LED television, it was sold for 2,799 yuan before 9 am Wednesday on Jingdong Mall online. Ít's now dropped to 2,499 yuan in the sales. In Suning's online store, it's selling for 2,388 yuan. In the online Gome mall, the price has fallen to 2,288 yuan, which is the cheapest so far...In general, the price difference of electrical products among these major sellers has narrowed to between one and two hundred yuan. What's çertain is that the profit margins for sellers are now being squeezed to extreme levels.
Editor:Zhang Dan |Source: CCTV.com