Watch Video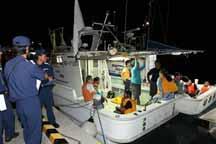 Play Video
Several Japanese nationalists spent the day on Diaoyu Islands, in the East China Sea. The move came at the heart of a territorial row between China and Japan, and could spark more tensions after last week's arrest of activists from Hong Kong for doing the same.
A tit-for-tat landing - On Sunday morning, 10 Japanese activists went ashore on the Diaoyu Islands. They're part of larger group of 150 people aboard 21 vessels, including lawmakers and members of right-wing groups.
The flotilla set off a day earlier, to mourn soldiers who died in World War Two. China has lodged a solemn representation to the Japanese ambassador to China over the landing.
Foreign Ministry Spokesman Qin Gang said on Sunday the action violates Chinese territorial sovereignty. China strongly urges Japan to stop actions that seek to undermine China's territorial sovereignty. It should handle the issue properly and avoid actions that may hinder China-Japan relations.
The act by the Japanese activists came after 14 Chinese activists arrived at the Diaoyu Islands in a Hong Kong fishing vessel last Wednesday, to assert China's territorial claim.
They were illegally arrested shortly after, and were released last Friday. Protesters in Beijing, Hong Kong and other cities praised the activists as heroes.
The uninhabited islands in the East China Sea are surrounded by rich fishing grounds. Though China claims full sovereignty over the islets, Japan has made three illegal landings this year.
Both of the previous two were organized and carried out by parliamentarians from the city of Ishigaki. Japan forbids residents to visit the Diaoyu Island without permission.
Punishments are said to be given, but all of those who have landed there were released after questioning by police.
The Sino-Japanese row has intensified in recent months since the nationalist governor of Tokyo proposed that the Tokyo Metropolitan Government buy the isles, prompting the central government to make its own bid to purchase them instead.
According to the Daily Yomiuri, the Tokyo Government will apply to send a team to visit Diaoyu Islands later this month, to study the nearby waters.
And the Vice Foreign Minister of Japan is to fly to Beijing next week, as plans for more visits by activists on both sides appear likely to further inflame the territorial tensions.
Related stories
Editor:Zhang Dan |Source: CCTV.com