Watch Video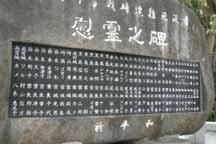 Play Video
People living in Ishigaki have expressed their objection to the landing of the Japanese activists on the Diaoyu Islands.
On the shore of Ishigaki stands a memorial to those who died in the Diaoyu Islands incident. The incident goes back to June 30th, 1945 when two vessels carrying more than 180 people left the Ishigaki island for Taiwan to seek asylum.
Three days later, the two vessels were spotted by US soldiers near the Diaoyu Islands and about 80 people were shot dead or drowned.
In 1969, the then Ishigaki mayor and relatives of the dead landed on the island to pay their respects to the deceased. In 1978, nearly one hundred descendants set up an association in memory of the dead, and built a memorial to them in 2002.
Every July, the association meets to pay their respects. Over the past few years, some Japanese conservative senators have applied to the government, planning to hold a ceremony for people who died in World War II on Diaoyu Islands.
However, the leader of the relatives association says their wish to pay their respects to the dead is a personal matter, which only concerns the families of those who died.
The motive of others who want to land on Diaoyu Islands is not pure.
Preferring to remain anonymous, he says he does not want any involvement in the wider disputes and the group doesn't agree with the Japanese nationalists claims to the islands.
The group wants the two countries to put aside the dispute on Diaoyu Islands right now and hopes that peace and stability can be maintained in the region.
Related stories
Editor:Zhang Dan |Source: CCTV.com