Watch Video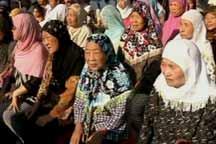 Play Video
A nursing home for the elderly in the central Chinese city of Wuhan is celebrating the end of Ramadan. Founded by a successful Hui businessman, the center is home to both Han and Hui ethnic groups.
An Chuanhuan, a retired middle school teacher, reads her Koran in the morning before her sister, also a school teacher, comes and visits her in her room at a nursing center for Han and Hui residents.
The home was founded by Li Pinggui, a Hui businessman whose father devoted his life to his faith in the Koran. A few years ago, Li's father passed away. The successful businessman established this nursing center in the name of his beloved father.
Li Pinggui, founder of Nursing Center for fhe Elderly, said, "My father was a faithful Muslim. When he was alive, he often told us there was no nursing center for the Hui in Wuhan. He always hoped to build one. After he died, we opened a nursing center in his name to fulfill his wish. "
On the fifth floor of the 6-storey building, a group of residents are singing a popular song. Wang Xiaonong and Chen Huaming, an ethnic Han couple, invite one of their Hui neighbors to share the pleasure of the festival. Outside the room, others are watching TV. One of the nurses is helping a disabled lady join them.
An Chunhuan is telling her sister how about her life in the nursing center. She says her real life began in the center, where she finally has time and guidance from the Imams to study the Koran. So for this month of Ramadan she strictly followed all the Shariah laws.
The Wangs and their Hui friend will go downstairs later for lunch. Like An Chunhuan, their son works outside the city. He says they chose the nursing center because of its low price and the religious faith-based kindness for all. But he is not a Muslim himself.
Wang Xiaonong, Han resident, said, "There are some taboos in the diet of the Hui. As old people, we should rely on a vegetarian diet. The Hui also eat meat, like beef, mutton, chicken and duck. For example, we had duck soup for lunch today. Everything goes well in the nursing centre. As old people, we should mainly eat vegetables rather than meat. As for healthy people, we enjoy each other's company, but we should be considerate to the sick. We sing and chat. Women love to chat."
Next to the nursing center is a mosque. The Imams and their congregation are busy preparing a religious service. Today, An and her sister will be allowed to enter the prayer room to listen to the Imams' explanations of the Koran. And the Wangs will be invited for the feast, perhaps to celebrate their days with these kind and religious Hui.
Editor:Zhang Dan |Source: CCTV.com