Watch Video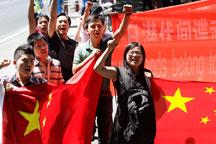 Play Video
10 Japanese activists who landed on the Diaoyu Islands on Sunday have come under investigation in Japan. The move comes at the heart of a territorial row between China and Japan over the chain of islands in the East China Sea. In cities across China, thousands have taken to the streets to voice their objection to Japan's claim to the island.
A move that's been described by Japan's Chief Cabinet spokesman as "regrettable".
Osamu Fujimura, Japan Chief Cabinet Spokesman, said, "We cannot accept China's claim to the islands. However, neither country wants to jeopardise bilateral relations over this issue."
The 10 Japanese activists have been charged with the offence of trespassing on one of the Diaoyu islands.
The visit, the third of its kind this year, was not approved by the Japanese government.
Both China's Vice Foreign Minister and the Chinese ambassador to Japan have lodged formal protests against the landing.
The feud between Tokyo and Beijing over the island chain has run for decades.
Tensions flared last week after seven Chinese activists landed on one of the uninhabited islands and raised a Chinese flag.
They were illegally arrested shortly after, and were released last Friday.
Anti-Japanese protests have rocked Chinese cities since then.
Overseas Chinese have also held protests to show their support.
Yang Zhiwei, overseas Chiese in Australia, said, "We are here to voice the message that the Diaoyu Islands belong to China. We support the territorial integrity of China. Japan must apologize."
The demonstrations and protests reached a climax on Sunday.
In the southern city of Shenzhen, people waved Chinese flags and banners in front of the Japan consulate, urging the Japanese to leave the islands.
The last major spate of anti-Japanese protests in China took place in 2010, when Japan arrested the captain of a fishing boat after it collided with Japanese Coast Guard ships near the Diaoyu islands.
Editor:Zhang Jingya |Source: CCTV.com