Watch Video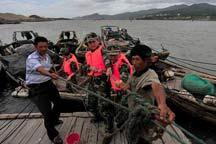 Play Video
Typhoon Tembin is now hovering back towards Taiwan after it slammed and ripped through Taiwan on Friday. It will bring gales and torrential rains to the island's south. Weather forcasts say that's the result of the impacts from another Typhoon Bolaven, much larger than Tembin. The mainland's southeastern coast have already felt the hit from typhoon Tembin. Fishermen in Fujian and Guangdong Province have been warned to pull their vessels into the harbour.CCTV reporter Chang Dili went to one fishing village in Fujian to see how they're coping.
A nearly empty fishing basket. For days, this is what typhoon Tembin has brought Zhuang Yibin, who has been fishing here over 20 years. His boat has been confined to harbor, along with the 900 other fishing boats in his village. The giant waves brought by Tembin have prevented them from sailing out to sea.
Zhuang Yibin, Fisherman of Fujian Province, said, "The typhoon is pretty strong. It's been like this for 5 or 6 days. I think it will be another week before I can go back to sea. I'm losíng hundreds of yuan each day."
Fishing nets that can't be moved are protected by rocks and ropes. The frontier defense troops come to ensure the safety of fishermen living in the coastal areas.
Huang Ziqiang, Patroller of Fujian Province, said, "Our duty is to help reinforce the harbor area. Also, we come to the coast 3 to 4 times a day to check if anyone is in the water. As many fisherman have property on their boats, sometimes they go back to reinforce the boats despite the danger. "
The slow progress of Tembin has had a lasting effect on coastal areas in Fujian. By the end of Friday, over 39 thousand fishing boats in Fujian had been forced back to the harbor. That's especially hard for fisherman like Zhuang. For them, fishing is not just a job, it's a way of life
Editor:Zheng Limin |Source: CCTV.com