Watch Video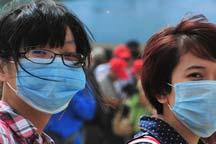 Play Video
The Ministry of Environmental Protection says Beijing's average readings of particulate matter under 10 micrometers in the first half of 2012 ranked the third highest in China. It followed Urumqi and Lanzhou. That number is up 6 percent from the first half of last year. Liu Li brings more.
Beijing residents feel the air has become much better than the days before 2008, as the capital underwent a massive cleanup in 2008 for the Olympic Games. But they still think there is much room to improve.
I think the air has gotten better in recent years, especially after 2008.
These days are not too bad. But on some smoggy days, it feels very uncomfortable, and dirty. I wish it could be much better.
Liu Li, Beijing, said, "Despite somewhat grey skies today, Beijing residents don't seem too bothered, as they carry on with their outdoor activities. But locals are hoping that they'll start to see clearer skies from here on out thanks to the governments' efforts to curb the city's pollution."
But the increased PM 10 concentration in the first half of this year shows that these efforts are not really successful.
Ma Jun, Director of Institute of Public & Environmental Affairs, said, "This suggests that the city is developing too fast, and emissions cannot be controlled effectively. Pollution is still on the rise, while we endeavour to curb it. As long as the weather is not good, the situation is worse in the city."
Ma Jun says coal burning, vehicle emissions, and construction work, all contribute to Beijing's air pollution.
More than 5 million vehicles are currently registered in Beijing, and the number keeps climbing. Thousands of urban construction sites are working simultaneously, which kick up a lot of dust.
Experts also warned that air pollution in Beijing cannot be eased without taking measures to curb emissions and other pollutants in surrounding cities.
"It takes time to curb pollution, but we have to carry on. Beijing plans to spend 20 years to reach the PM 2.5 concentration standard set by the World Health Organization." Ma said.
In the past, PM 2.5 and Ozone were not included in China's Pollutant Standards Index. But since this year, Beijing has adopted new standards including monitoring for PM 2.5. These particles are considered more hazardous than larger particles. This is considered significant progress.
The air quality report found that among the country's 113 key environmental protection cities, 33 of them failed to reach the country's second-class air quality standards in the first half of this year. That is 12 cities less than that the same period last year. And 38 cities saw their average PM10 concentrations increase. Experts say China still faces severe and widespread pollution as it goes through a period of rapid industrialization.
Editor:Zheng Limin |Source: CCTV.com