Watch Video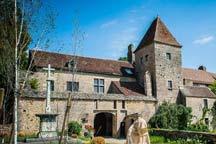 Play Video
In East France, the purchase of a medieval chateau by a wealthy Chinese investor has been met with mixed reactions, marking a new chapter in the history of wine-growing in Burgundy.
A gambling tycoon from Macau bought the chateau earlier this year for some eight million euros, which is about 63 million ren-min-bi, while local buyers had been priced out of the bidding, French media reported. The news has been received with mixed feelings in Burgundy, one of France's most famous wine-growing regions. Some worry that the country's heritage has been threatened.
Hubert, Tourist, said, "I'm surprised, because it's such a part of the local area that it's odd they could have let it slip away. But everything depends on what they do with it. But it's true that it would be good if it had stayed part of our heritage."
In spite of some scepticism, others think the village's chateau can look forward to a sound financial future.
Jacques Dorey, Local Councillor, said, "Well I think the Chinese man is solvent and there is a great chance that the chateau will be looked after. The chateau itself will not disappear, and not much will change in village life whilst an excellent winegrower will still be looking after the vines."
With China becoming an increasingly significant consumer of French wine, the purchase is part of a growing trend of Chinese investment in French vineyards. In Burgundy, the region remains dominated by smaller estates, but it may see more foreign ownership of chateauxes in the future.
Editor:Zheng Limin |Source: CCTV.com