Watch Video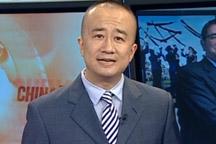 Play Video
China's national defense ministry stressed that recent missile tests are not directed against any particular country during briefing. Full story>>
Q1: The Defense Ministry spokesman mentioned the latest talks between Chinese and US military officials. What does the Chinese military say about the talks between the two sides and the message sent to the US military?
A1: Well, we know that the Chinese military delegation led by Lieutenant General Cai Yingting, held talks with the US counterparts on a wide range of issues. One key topic is regarding the Diaoyu islands. Cai made its firm stance to the US side, that China strongly oppose any application of the US-Japan security treaty to China's Diaoyu Islands. The treaty says that Washington will provide assistance to Tokyo if Japanese territory comes under attack. China argues that this treaty does not apply to the Diaoyu islands.
Cai also expressed strong concerns over issues related to China's vital and core interests, including US arms sales to Taiwan, US military reconnaissance activities and territorial disputes in the South China Sea. He urged the US to make more efforts to ease tensions so as to safeguard peace in the Asia-Pacific and maintain a healthy development of US-China military relations.
One concrete step to deepen relations is the upcoming visit by US Defense Secretary Leon Panetta in mid-September. It is in response to Chinese Defense Minister Liang Guanglie's visit to the US in May.
Q2: There have been a lot of reports about China's recent missile tests and nuclear warheads. What does the Chinese military say to that?
A2: I'm afraid that the spokesman has neither confirmed or denied the tests. What he did say was: " China has conducted a serious of tests of weapons within its borders. These tests are not targeted at any country."
I think it's natural for the country to develop its military weaponry, and it's also natural that the military may not provide all the information asked by the media. China's modernization drive has always been closely watched by the outside. There's always speculations whenever there's a weapons breakthrough, and not just in China. We see reports saying China has tested the Dongfeng 41 intercontinental ballistic missiles and submarine-launched missiles over the past month. If those tests were successful, China could have upgraded its nuclear attack capabilities.
Reports say Dongfeng 41 is a new generation of intercontinental ballistic missiles that can carry multiple warheads. It is also said to have a strike range of some 14,000 kilometers. China's ballistic missiles are under the command of the PLA second Artillery corps.
For decades, it's been working on advanced technologies, high adaptability and comprehensive tactics. But many Chinese experts say in response to continued efforts by other countries to improve their forces, and the increasing tensions in the Asia-Pacific region, China needs to advance its capabilities to meet the challenges. The country needs limited but effective nuclear forces to protect it as well.
Related stories
Editor:Wang Chuhan |Source: CCTV.com