Watch Video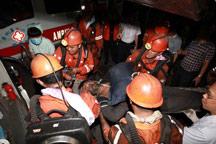 Play Video
The death toll in the mine accident in Sichuan Province has risen to 41 as of 11a.m. Friday. Five others are still trapped, and 34 victims' bodies were found underground. Rescue works have been hampered by high temperatures and dangerous carbon monoxide levels.
Rescuers were racing to save the trapped miners in the Xiaojiawan coal mine following a gas blast in the coal-rich city of Panzhihua.
More than 300 rescuers were lowered into the mine to search for the trapped miners. However, their efforts were hampered in the gas-filled pit.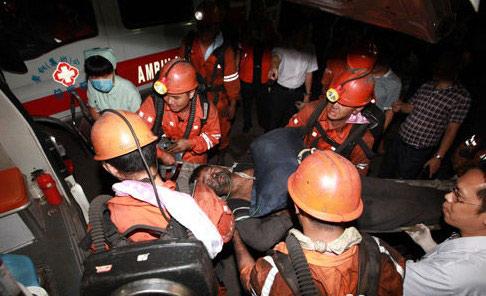 The death toll in the mine accident in Sichuan Province has risen to 41 as of
11a.m. Friday.
A rescure Tang Zhong says, "There was so much ash that I could barely see a thing down there. And the underground spaces are too narrow with some tunnels having been destroyed. We couldn't enter the pit."
Temperatures reached 80 to 90 degrees centigrade and carbon monoxide was dense in the zone where the miners were trapped. Finding and rescuing the miners trapped underground has remained a pressing task.
A total of 154 miners were working at the mine when the explosion occurred. 107 of them have escaped on their own or have been pulled out of the shaft by rescuers. Three miners died on their way to the hospital.
Sources said as of 6 pm Thursday, 4 hospitals in Panzhihua had received 54 miners, including 10 who were seriously injured and seven in critical condition.
Some injured miners were not even at work when the accident happened, but they turned back into the pit to help others instead of walking away.
60 year-old miner Zhou Zhiming was one of them.
A miner Zhou Zhiming says, "Many people were down in the pit, who would've died if we hadn't have helped them out. Some had been too terrified to move. And some inhaled too much poisonous gas and they had fainted. So we had to pull them out to air."
Mr. Zhou pulled 6 miners out of the pit, when he was sent to the hospital for carbon monoxide poisoning.
The coal mine, some 750 km southwest of the provincial capital Chengdu, is owned by Zhengjin Industry and Trade Company. Three owners of the mine have been taken into police custody and the mine's accounts have been frozen. An investigation into the accident is underway.
Related stories
Editor:Zhang Jianfeng |Source: CCTV.com