Watch Video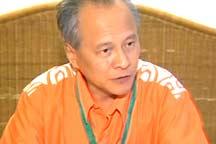 Play Video
China has laid out a raft of measures to help the sustainable development of Pacific island nations at the Post-Forum Partners Dialogue of the Pacific Island Forum in the Cook Islands. US Secretary of State Hillary Clinton and representatives of the European Union, Japan and other major nations took part in the forum.
This year's Pacific Island Forum focused on the threat of climate change, economic growth and trade. it's represented by 16 countries ranging from Australia and New Zealand to smaller islands like Tuvalu and Nauru.
China's Vice Foreign Minister Cui Tiankai who took part in the Post-Forum Partners Dialogue Meeting, told reporters that China's presence in the Pacific was not about geo-political influence.
Cui Tiankai, Chinese Vice Foreign Minister, said, "We are here in this region not to seek any particular influence, still less dominance. We are here to work with island countries to achieve sustainable development, because both China and the Pacific island countries belong to the rank of developing countries."
U.S. Secretary of State Hillary Clinton attended the Forum. It's the first time the US, as an observer of the Forum, has had such a high-level official participating in the event. Some western media calls it unusual, saying it sends a message to China that the US is turning its attention to the region.
Hillary Clinton dismissed the notion that expanded U.S. activity was "a hedge against particular countries." However, she still made several points over China.
Hillary Clinton, US Secreatary of State, said, "We want to see them play a positive role in navigation and maritime security issues. We want to see them contribute to sustainable development for the people of the Pacific to protect the precious environment, including the oceans."
In response, Cui Tiankai said China would continue to help Pacific island countries achieve sustainable development. China is also preparing to offer energy-conserving products to the Pacific island nations under the framework of its 200-million-yuan international cooperation program, with consideration for biogas, small hydropower, solar power and wind power installations to support climate change adaptation.
Clinton goes on to Indonesia and China next week, amid rising tensions between China and Japan over the Diaoyu Islands.
She will finish her trip with stops in Brunei and East Timor before heading to the Russian port city of Vladivostok, where she will represent U.S. President Barack Obama at this year's Asia Pacific Economic Cooperation summit of regional leaders.
Editor:Zheng Limin |Source: CCTV.com