Watch Video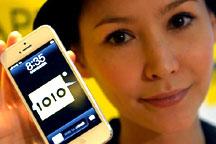 Play Video
The Hong Kong Apple Store has debuted the hotly awaited iPhone 5. While eager Apple-lovers lined up to get their hands on the newest iphone a grey market sprang up just on the store's doorsteps. Resellers were offering to pay 50 percent above retail price. Let's take a look at the phone-frenzy.
The doors open. The iphone 5 is finally up for grabs in Hong Kong. To avoid the crushing crowds from past launches, this much anticipated gadget was only available to those who had successfully made online reservations, limited to two per person. But still, there were several hundreds of Apple fans waiting. They were the lucky ones who had registered online and selected by the lottery system.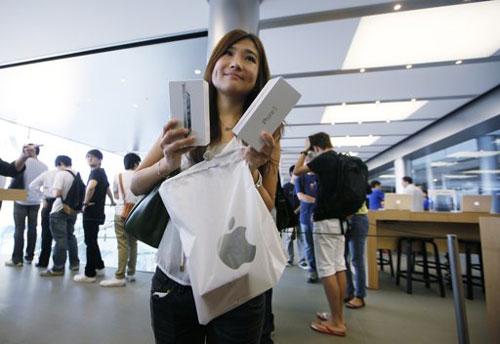 A customer shows her new iPhone 5 at the Apple store in Hong Kong Friday,
Sept. 21, 2012. (AP Photo/Kin Cheung)
The first purchaser said she was holding onto her iphone 5.
Brigitte Cheung, HK First iPhone 5 Buyer, said, "I have always been a fan of Apple. When I heard that the iPhone 5 was going to be released, my husband helped register both of us online. I was chosen but he wasn't."
Leo, iPhone 5 Buyer, said, "Because it is a very good product. And I already took a half day (off), to take this iPhone,"
Mr. Chu, iPhone 5 Buyer, said, "Because I know so many people who want one, I'm helping my friend to come and pick it up at the same time."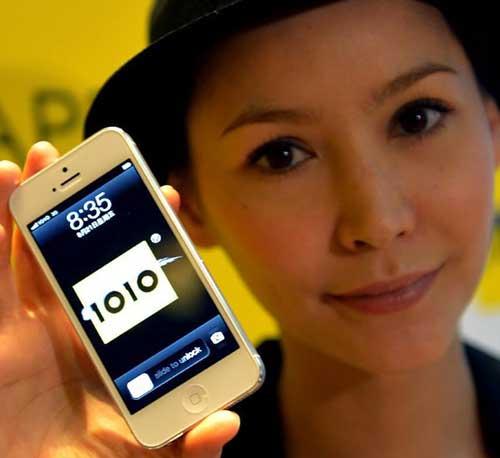 A customer shows an iPhone 5, the lastest version of Apple Inc's smartphone,
in south China's Hong Kong, Sept. 21, 2012. The iPhone 5 started selling in
Hong Kong on Friday, September 21, 2012. [Photo: Xinhua]
But not everyone lining up was an enthusiast.
University student Kevin Wong, waiting to buy a black 16 gigabyte model, said he was getting one "for the cash." He planned to immediately resell it to one of the numerous grey market retailers catering to Chinese mainland buyers.
The phones, which range from about 720 to 930 U.S. dollars, were snapped up by hoards of dealers for a minimum of 1000 U.S. dollars. Some of them had collected more than 10 phones within an hour of their going on sale.
Most of the secondary business was conducted a short distance from the shop, just far enough not to bother the dozen or so security guards on hand to keep the peace.
Iphone 5 was unveiled last week. It went on sale first in Australia, then Hong Kong and seven other places. Though the Chinese mainland is one of Apple's fastest growing markets, a release date for the iPhone 5 here has not yet been set.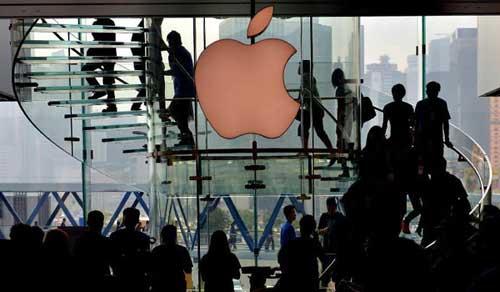 Customers enter an Apple store to buy iPhone 5, the lastest version of Apple
Inc's smartphone, in south China's Hong Kong, Sept. 21, 2012. The iPhone 5
started selling in Hong Kong on Friday, September 21, 2012. [Photo: Xinhua]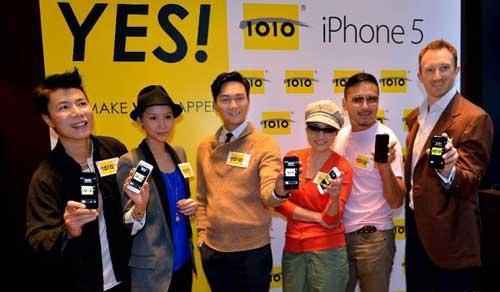 Customers show iPhone 5, the lastest version of Apple Inc's smartphone, in south
China's Hong Kong, Sept. 21, 2012. The iPhone 5 started selling in Hong Kong on
Friday, September 21, 2012. [Photo: Xinhua]
Editor:Zhang Pengfei |Source: CCTV.com