Watch Video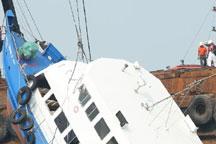 Play Video
The SAR's government announced on Thursday that a independent investigation team will be formed to find the causes of the worst maritime disaster in 40 years.
The investigation team will be formed by high-profile personnel who are independent from the government for an objective and insightful investigation over the causes of the crash. The government also says more information on the investigation team will be released to the public early next week.
The accident happened on October 1st off Hong Kong's Lamma Island when a ferry and a boat collided.
So far Maritime investigators are looking at a number of possible causes , including whether the high-speed ferry that collided with a boat packed with families had been going faster than usual or deviated from its normal course.
Related stories
Editor:Zhang Pengfei |Source: CCTV.com