Watch Video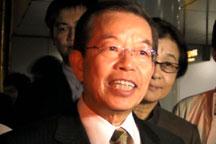 Play Video
The Chairman of the Taiwan Reform Foundation, Frank Hsieh Changting has arrived in Xiamen, Fujian Province at the start of a five-day trip.
On his arrival on Thursday, Hsieh Changting visited nearby Dongshan Island, where he has ancestral ties. Hsieh appeared moved by the ancestor worship ceremony. He later told reporters that "we should do the right thing to make our ancestors proud".
On Friday morning, Hsieh held talks on cross-strait relations with mainland scholars at Xiamen University. The trip will also take him to Beijing, where he plans to visit the 2008 Olympic stadium and attend an international cocktail contest as a guest of the International Bartenders Association.
The visit, described by Taiwan media as "ice-breaking", comes amid debates in the Democratic Progressive Party about whether to change its mainland policy. Hsieh says the purpose of his trip is to "build mutual trust", though he will only meet with mainland academics during the "private" visit.
Frank Hsieh Changting was the DPP's candidate in the 2008 leadership elections, losing to Ma Ying-jeou of the Kuomintang Party. He retains major influence in the opposition party.
Editor:Zhang Pengfei |Source: CCTV.com