Watch Video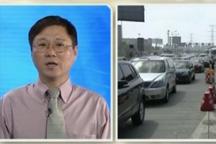 Play Video
After enjoying a toll-free holiday week, drivers will have to pay tolls starting at midnight on Sunday. In the last toll-free hours, many places have begun to take measures to keep the traffic condition under control. Full Story>>
As the eight-day holiday draws to an end, the crowded expressways and tourist attractions have elicited heated discussion. For more on this topic, we're joined by Raymond Zhou, senior columnist from the China Daily. Good evening.
Q1: Many toll-free expressways were hit by traffic jams and the policy has received lots of complaints. Did the authorities realize the possible problems before making the policy?
Q2: The toll-free policy is a test for the transportation system. What can be done to improve the traffic capacity?
Q3: During the holiday there were incidents of improper behavior by tourists at scenic spots. Do you have any suggestions on how to solve this problem?
Q4: Some people say that because there are only two long holidays in China, Spring Festival and National Day, most people have no choice but to travel in these periods. So this aggravates travel and traffic problems. What is your opinion?
Editor:Wang Shuo |Source: CCTV.com