Watch Video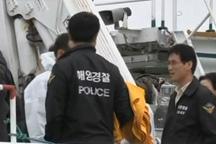 Play Video
An autopsy on a Chinese fisherman, Zhang Shuwen has been carried out in South Korea. The man was allegedly shot dead by the South Korean Coast Guard.
Preliminary results show the fisherman died from injuries sustained from the rubber bullet to the chest.
Authorities say evidence suggests Zhang was probably hit in the heart. There is no evidence he was beaten or was ill before he died. A further investigation will be carried out to test whether he had drugs or alcohol in his system.
The final result will come out in about 10 days. South Korea says the fisherman was involved in illegal fishing when he was shot at sea on Tuesday. He was taken to hospital where he died. Several of Zhang's colleagues were arrested.
The Chinese fishermen and their boat were taken to the South Korean coastal city of Mokpo on Wednesday as police continue their investigation. The Chinese Embassy in Seoul has expressed strong dissatisfaction to South Korea over the shooting.
Related stories
Editor:Zhang Rui |Source: CCTV.com