Watch Video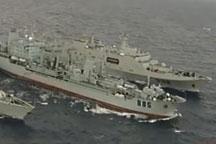 Play Video
By CCTV reporter Shi Wenjing
An island-landing drill by China's South Sea Fleet has been ongoing in recent days. Multiple teams were sent on the practice for what is considered to be some of the most complex and difficult combat.
Launching the ship-to-air missile, this is part of the recent drill which aims to guarantee the island landing.
With the arrival of command ship, Kunlun Mountain and its cadre of destroyers, frigates, submarines, landing ships and support ships - an entire fleet bears down on its target after more than ten hours of sailing.
Li Jie, Naval Expert, said, "The live-fire nature of this island landing exercise is very important, particularly after thousands of miles of sailing."
Island landing is no easy feat, demanding that a flotilla sail long distances and organize a complex attack.
And in particular, it places heavy demand on support ships which must try to repel attacks, provide medical assistance, and supply fuel and other necessities.
Li Jie, Naval Expert, said, "The drill is a big improvement over previous ones. It is a breakthrough for the Chinese navy, particular for its open-sea support abilities. Also, it is a test of the cooperation and coordination of the fleets and support ships."
And that coordination is important. With an increasing role in the Chinese navy, a focus on well-trained and well-equipped support ships is the key.
Editor:Bai Yang |Source: CCTV.com