Watch Video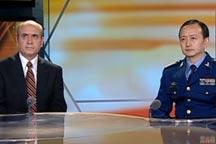 Play Video
General Secretary of the CPC Central Committee, Hu Jintao stressed the need for China to modernize national defense in an information age in his political report. This means taking full advantage of high technology. Full story>>
Here with us in the studio are Senior Colonel Zhou Bo from the Foreign Affairs Office of the Ministry of National Defense, and Professor Mark Morrison, from the China Foreign Affairs University.
Q1: China plans to increase its defence spending by 11.2 percent this year, slightly lower than the budget increase in 2011, which was 12.7 percent. Data released by The Stockholm International Peace Research Institute shows that the US remains by far the world's biggest military spender with a defense budget of more than 710 billion US dollars.
China held the second spot at 143 billion dollars, with Russia on the rise, overtaking Britain and France to become the world's 3rd-largest arms spender at 72 billion dollars last year. The agency said China's spending is in line with its overall economic growth and has remained stable at around 2% of its GDP since 2001.
Although China has clearly stated that its military spending is solely for safeguarding the country's national sovereignty and territorial integrity, some countries have raised concerns on whether China is moving too quickly in bolstering its military, and that it's aiming it at specific countries. What do you think?
Q2: In the report delivered at the 18th National Congress of CPC, Party General Secretary Hu Jintao raised the new requirements needed for China's national security strategy. Do you think the message has shed some light on China's future defense policy?
Q3: During Vice President Xi Jinping's visit to Washington, the Obama administration specifically asked for greater transparency regarding China's military budget. US officials also called for deeper communication between the two armed militaries. What do you think needs to be done to increase trust and cooperation between the two?
Q4: How do you see the security challenges in the South China Sea? Do you think China's future defense policy will focus heavily on the region?
Q5: The People's Liberation Army operates seven military area commands in China. They are headquartered in Shenyang, Beijing, Lanzhou, Jinan, Nanjing, Guangzhou and Chengdu. Commanders of all seven military area commands have now completed a new round of transition.
In October, the Ministry of National Defense appointed a new army chief of the PLA and other top officers. Admiral Fang Fenghui is taking over as chief of the General Staff of the People's Liberation Army. Zhang Yang is named director of the General Political Department, Zhao Keshi becomes the General Logistics Department, and Zhang Youxia is now the head of the General Armament Department. In addition, Xu Qiliang and Fan Changlong have been appointed as Vice Chairmen of the Central Military Commission. What's your take on the changes?
Related stories
Editor:Wang Chuhan |Source: CCTV.com