Watch Video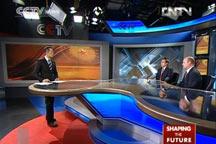 Play Video
Mr. Ruan Zongze, the Vice President of the China Institute of International Studies, and Professor Mark Morrison, from China Foreign Affairs University.
Q1. Back in 1999, Premier Zhu Rongji went to the US to seek support for the country's WTO membership and got a snub. Over a decade later, when President Hu Jintao paid a state visit to Washington, NBC news used the title "America's banker arrives". What a dramatic change ? And more importantly, what does it mean for China itself?
Q2. Late Chinese leader Deng Xiaoping said China should adopt a cautious approach on the international stage, keep low profile and wait for its chance. More recently, former Chinese ambassador to the US, Zhou Wenzhong, spoke about how China wants to be seen by the outside world. So, is China ready to play a bigger role. Or should we keep things modest, and keep a low profile?
Q3. Lets look at things from a foreign perspective, the US's former ambassador to China, Jon Huntsman, recently spoke about how the relationship between China and the US can be strengthened. Do you share the views of Mr. Huntsman? What's the best way forward for China and America?
Q4. During the ongoing CPC Congress, Deputy Foreign Minster Fu Ying spoke about what China should do to establish good international relations. What you read into that statement - is there anything we can take from that about future policy direction?
Related stories
Editor:Zhou Minxi |Source: CCTV.com