Watch Video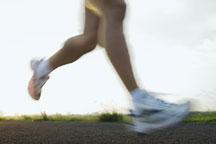 Play Video
By CCTV reporter Ai Yang
The cancellation of long-distance races at some of China's university campuses has highlighted the poor level of physical fitness among students. CCTV reporter Ai Yang visits one university in Beijing to find out how students are doing in their physical education class.
Trying out for the 800-meter run isn't a pleasant experience for many students. Many have found it exhausting, and some even struggle to make it to the finish line.
Sun Mengmeng, Student, Beijing Language and Culture Univ., said, "I don't really like to exercise that much usually. I was the last one to pass the finish line, and I nearly failed. My legs feel so wobbly now."
Zheng Ruijie, Student, Beijing Language and Culture Univ., said, "I was quite tired after the run. Although I enjoy it, I haven't exercised this much in a long time because my studies take up so much time."
CCTV reporter Ai Yang, Beijing, said, "The PE teacher says more effort is needed…"
Liu Ying is a PE teacher. He says in order to get students more interested in sports; the university is offering more options for outdoor activities. But even so, the results are still not satisfying.
Liu Ying,PE Teacher, Beijing Language and Culture Univ., said, "Students' physical conditions have been getting a lot worse over the years. These have all been clearly shown in the test results. They show that before entering college many students spend most of their time studying and rarely have the time to exercise. So without having developed the habit, it's more difficult for them to start exercising now, even if there is time."
In fact, this situation is common throughout China's campuses. Research in March this year found that more than half of China's university students lacked physical training, while more than one third of students' physical health was below standard. And of course, even at college, the workload can still keep students indoors for too long. Liu says they must find a better balance, as keeping fit is as important as academic performance.
Related stories
Editor:Bai Yang |Source: CCTV.com