Watch Video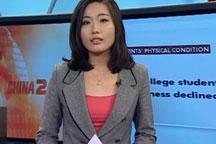 Play Video
The cancellation of long-distance races at some of China's university campuses has highlighted the poor level of physical fitness among students. Full Story>>
For more on the topic, we're joined in the studio by our reporter Ai Yang.
Q: In your story the PE teacher says students' physical conditions are getting worse by the year. What's the situation now and have you got any figures for us to illustrate this.
A: Yes indeed the situation is like I said, quite prevalent right now. According to statistics released in 2011, college student's overall physical fitness has been on a steady decline for the last 25 years.
For example, compared to statistics back in 1985, students' vital lung capacity dropped nearly 10 percent. Female and male college students' test results in the 800-meter run and one kilometer run both dropped more than 10 percent.
Not only that, results show that most students are either overweight or below the average fitness level, and more than 90 percent of the students surveyed suffered from shortsightedness. These figures show that insufficient physical training among students has become a widespread problem. Actually that's also contributed to situations we've heard about in the news, such as freshmen fainting during their military training.
But just a decade or two ago these stories were very rare because outdoors activities were a major past-time back then, and of course academic pressure was not as intense as it is these days. However as dramatic as it may sound, some teachers fear that some of their students are simply too out of shape to take regular exercise, which is why some universities in China have decided to cancel long-distance races in their sporting events.
Related stories
Editor:Bai Yang |Source: CCTV.com