Watch Video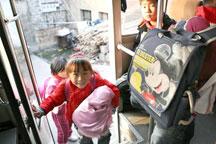 Play Video
By CCTV correspondent Andrew Depuis
Children living in rural areas of central China's Hubei province can have a hard time getting home from school. There is a lack of school buses, and the area's rough mountain roads add safety risks to the trip.CCTV correspondent Andrew Depuis takes a look at Yidu a city in southwest of the province, where efforts have been made to ensure children get to and from school safely.
It was a normal school day. Without school buses, parents had to pick up their children in person.
But that's only possible for a small portion of the student-body, who lives not far from the school.
They are mostly boarding students, as this remote mountainous region requires them to stay at school.
Li Huabing, Principal, Primary School of Wangjiafan Township, said, "Students may take 4 or 5 hours to reach their homes, because of the long distance, and a lack of vehicles to pick them up."
It is not uncommon to see students living dozens of kilometers from the school. Teachers call it a day as early as two o'clock in the afternoon, and spend another several hours to serve as caretakers.
The school decided to rent public buses from local authorities, to make it easier for children living far away.
He Yumei, Teacher, Primary School of Wangjiafan Township, said, "All the teachers, including the principal, need to take turns taking students home, every 7 or 8 weeks."
Over one million yuan has been used by the local government as subsidies for students to go home.
Harsh weather conditions add to the geographical difficulties of the trip home.
Huang Jian, Vice Director, Education Bureau, Hubei Province, said, "The cost of running buses and the maintenance fee are high, so we rent buses. I think it would be great if we could provide better boarding service for students so they could stay at the school."
Despite the fact that not a single accident has occurred in five years, children are still holding out hope that new schools closer to home would eliminate the need for the buses.
Related stories
Editor:Bai Yang |Source: CCTV.com